Our Craft
We scale innovation with new techniques to put customers at the heart of our creative process.
We reimagine expression with our innovative and unrivalled embroidery techniques by blending artistry with tech, research and passion. Besides being constantly on the search for emerging design ideas, our design team embraces new print and embroidery techniques, new fabric and t shirt materials, shirt design, tote bag design, ideas and experiences that inspire and create new value for our clients and partners.

Each bespoke fabric work is poetic and joyful, created out of deep design and manufacturing know-how. A unique story lies behind each one-of-a-kind creation, sparking creativity, thought and conversation.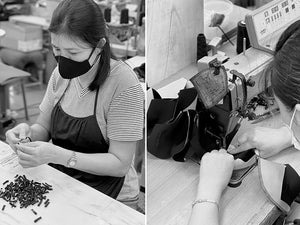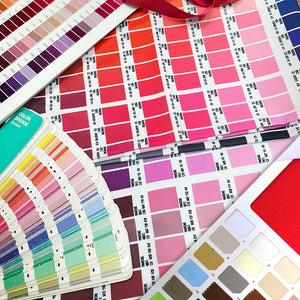 Our Design Philosophy
We create innovative, one-of-a-kind branded works by combining art, texture and form. By injecting fresh vibes and mastering the art of creating a hand-sewn quality in all our embroidered works, we bring your ideas to life with exquisite detailing and colour gradients.

All of our creations are designed in-house and inspired by the richness of Asian culture. We are passionate about curating Asian inspirations and reflecting uniqueness, individuality and heritage in each of our creations. From personalisd gifts to lifestyle products, we bring you inspired beauty and style with an Asian timelessness.
Our Quality Promise
We combine our passion and experience with the finest selection of materials sourced from Germany, Korea and Japan for every creation. Every detail - from the choice of thread to the type of fabric - is meticulously curated to ensure a professional finish. Premium German Isacord embroidery threads, for instance, are ideal for Eco-Fi felt, duchess satin and organza, while quality pearls, beads, quills, sequins and crystals with Swarovski Singapore are employed to evoke a sense of uniqueness and individuality. We keep our production process flexible and agile while operating at the highest manufacturing standards.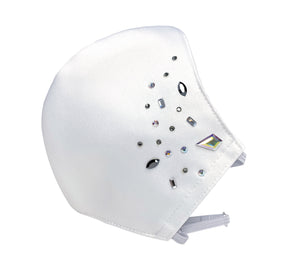 Techniques
Technique on Fabric
● Embroidery
- Classic Embroidery Designs
- Applique Embroidery Designs
- Embroidered Iron-On Patch
● Print
- Heat Transfer - Silk Screen Print
- Direct to Garment (DTG)
- Dye Sublimation Print
- Digital Printing
Technique on Paper
● Offset Print
● Hot Stamping
● Emboss/ Deboss
● Laser Cut/ Die Cut
Create one-of-a-kind corporate gifts in any quantity
Thinking of a unique corporate gift for key client accounts?

Over the years, we have perfected our expertise in innovative, unrivalled design techniques on fabric to produce high-end, exquisite gifts and art pieces like no other. By combining our innovative embroidery techniques with the highest standards in design and manufacturing, we create unique, high-quality pieces that tell your corporate story and strengthen your growing relationships with important clients and partners.

Our flexibility and scalability enable you to create gifts in any desired quantity. Leave the art, design and thought process to our fabric and embroidery experts and take credit for being the person who remembers and celebrates special occasions for clients, partners and employees.
A one-stop service for your every need
At Shevron, we build exquisite gift collections around a central theme or story. We refine your ideas to make each creation thoughtful, unique and truly one-of-a-kind. From customised collaterals and essentials to upscale, exquisite gifts, we reinvent the creative process to help you build meaningful and lasting personal and business relationships.

Reach out to us today to discuss your budget and brand requirements. Regardless of your desired quantity, we will customise our manufacturing process to your needs while ensuring simple sampling procedures and stringent quality control.
Product Consultation
During our product consultation process, we listen to your objectives and requirements before proposing product ideas and personalised gift solutions for your consideration.
Product Development
From silkscreen printing to iron-on details and embroidery, we source products, embellishments and packaging to meet your expectations and bring your ideas to life.
Creating a Sample
Leveraging our craftsmanship and aesthetics, a new contemporary design will be customised for your project. A sample will also be developed for your viewing before production.
Production and Delivery
Following production, we examine and inspect products and packaging to ensure that they meet our stringent standards before arranging for delivery.
Partners
We inspire the next generation of design.
At Shevron, we champion creativity, originality and local design through collaboration with design schools, independent makers and celebrated artists and thinkers and innovators in Singapore and the region.

We are constantly on the search for new partners and artistic collaborations. If you are an innovator, independent designer, artist or creator, reach out to us today to reignite imagination, creativity and the exchange of ideas.